CH CANDYLAND'S COOKIES N CREAM FUDGE

COOKIE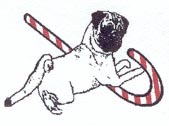 Cookie has gone to Spain to live with Diva and Andie.

Please be aware that some people who want to acquire or use one of your dogs may not be truthful. They may tell you only what they think you want to hear. Check, Check, and Check again as best you can to avoid doing business with such people. Check particularly with others that have done business with prospective clients and ask about their experience.

Cookie at 2 1/2 years old.


Cookie moving at 2 1/2 years old.